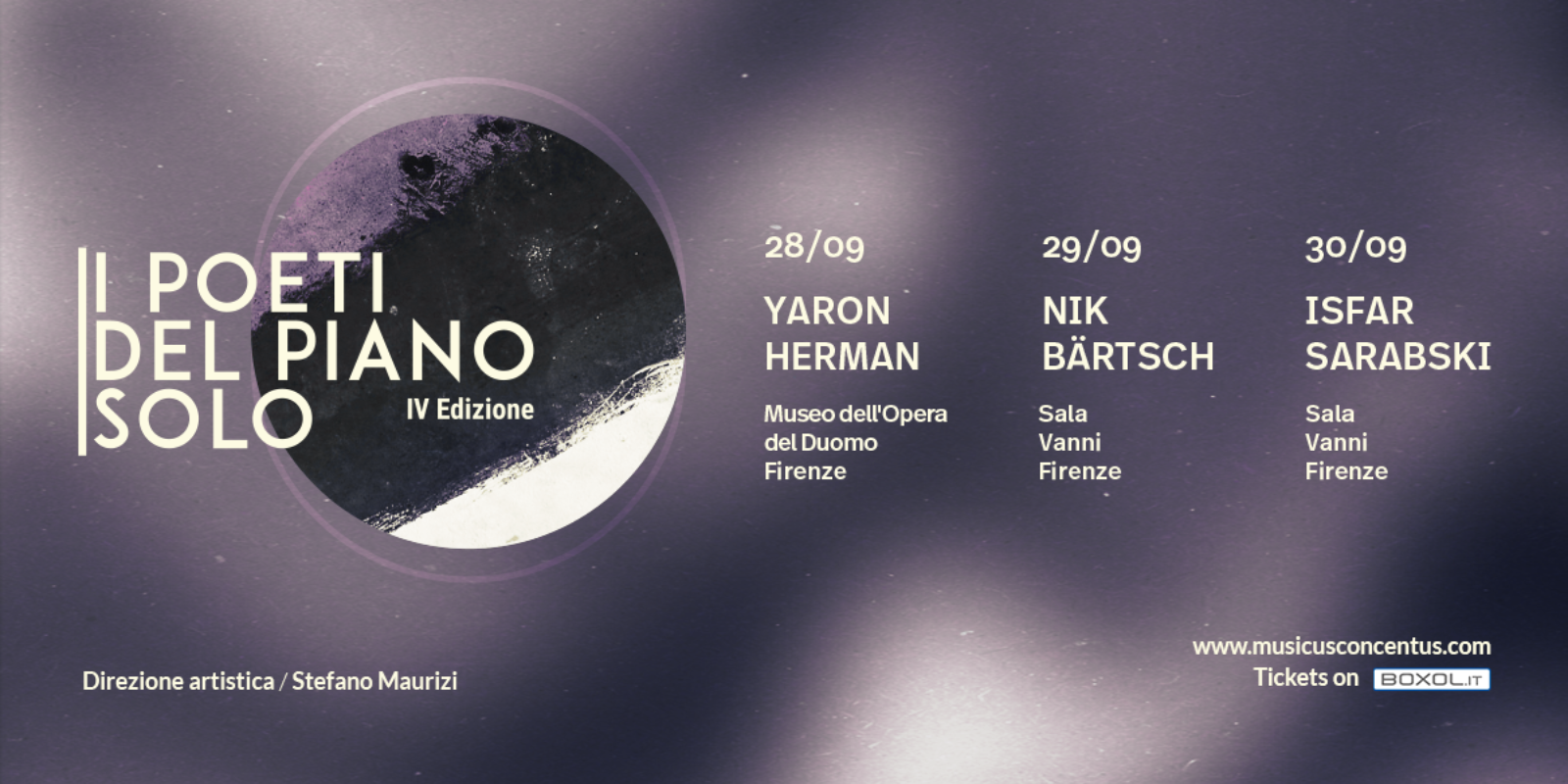 I Poeti del Piano Solo: program of the 4th edition
I Poeti del Piano Solo, the festival totally dedicated to solo piano recitals, is back in Florence at the end of September for the fourth edition. Organized by Musicus Concentus in collaboration with Something Like This Association, the festival is under the artistic direction of pianist Stefano Maurizi and president of Musicus Concentus Fernando Fanutti.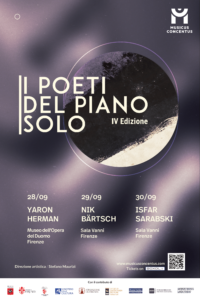 I Poeti del Piano Solo is a journey to discover the best international pianists. This edition will feature three great talents performing in Sala Vanni and the Museo dell'Opera del Duomo in Florence.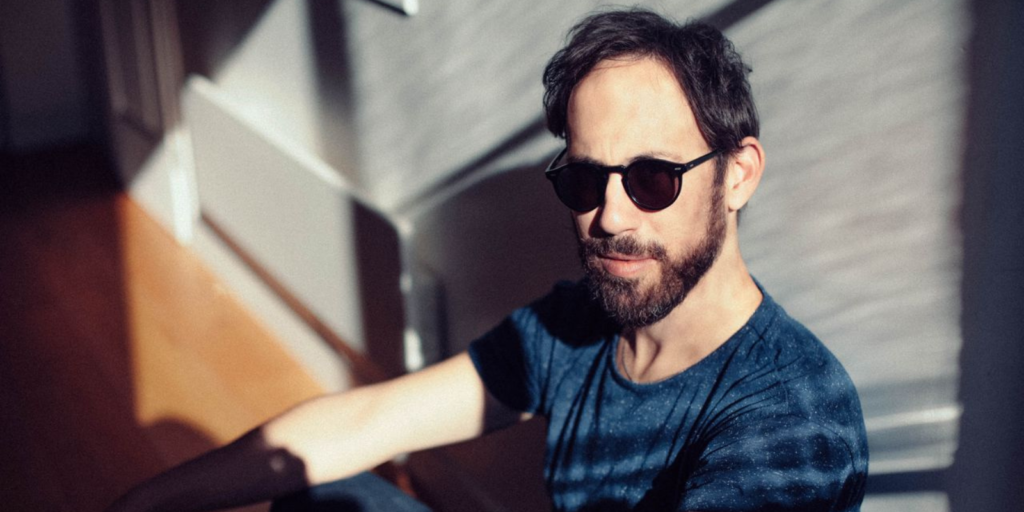 28/09 – Yaron Herman – Museo dell'Opera del Duomo – Florence
Reservations for the concert open Monday, Sept. 25, at this link:
https://duomo.firenze.it/it/eventi/9614/yaron-herman-in-concerto-al-museo-dell-opera-del-duomo
Yaron Herman is a world class pianist and composer and is widely regarded as one of the leading musicians of his generation. Despite his young age he has toured every continent, presided over the jury of the Montreux Jazz Festival Competition, headlined television broadcasts in 39 different countries, collected numerous awards worldwide and was the first ever jazz pianist to play in the 'Forbidden City' in Beijing.
With a background of traditional Israeli music and the European concert hall music tradition, a short stint at Berklee College School of Music and his current presence in the Parisian music scene, Yaron has developed an unparalleled style of 'real time composition' and a wild improvisational flare culminating in a rare music form which is playful, cinematic and stunning.
Yaron's brand new solo project Alma was recently released on Naïve Records and opens a whole new door for him. After ten albums, here he is, launching himself into the void and, for the first time, offering us an entirely improvised body of work, at once a staggering snapshot of the present and a rich mirror of his past.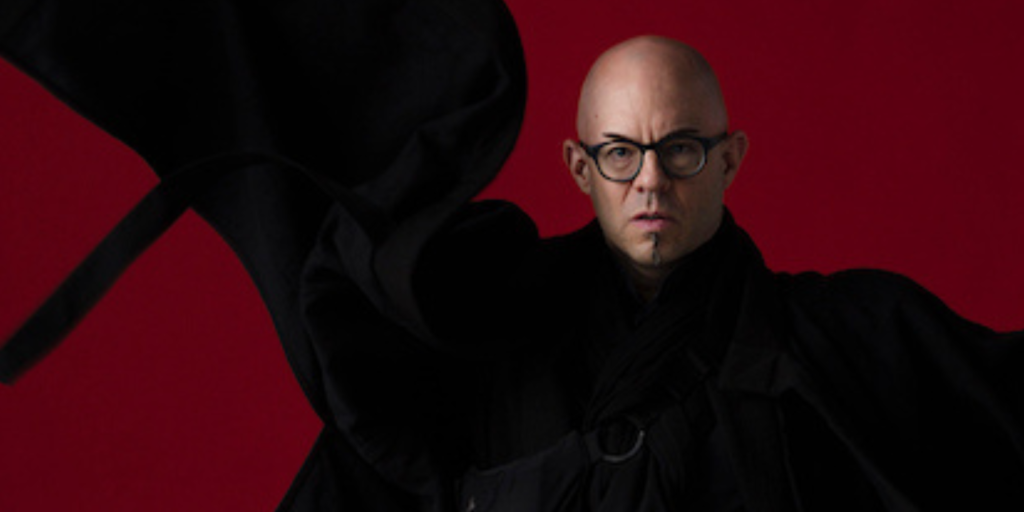 29/09 – Nik Bärtsch – Sala Vanni (Florence)
– Tickets on sale at Boxol.it BUY NOW –
Nik Bärtsch from Switzerland is certainly one of the most original interpreters of current European jazz. His music, which he calls 'Ritual Groove Music', shows a strong affinity with organised spatial architectures and the principles of repetition and reduction as well as with complex rhythms. It is a concentrate of the universal sound and not of a single national or stylistic tradition, and changes continuously through superimpositions, directing the listener's attention to minimal variations and phrasing.
Born in Zurich in 1971, Nik Bärtsch began at a very young age as a drummer, then went on to study piano, philosophy and linguistics, later turning to various disciplines of the body and oriental philosophies. This eclectic pursuit is also expressed through his two main musical projects, Ronin and Mobile. His most recent album, Entendre, moves between the pure sounds of acoustic piano treasuring the minimalist lesson, alternating singable melodies with more hypnotic moments. All always in a context of great depth and charm.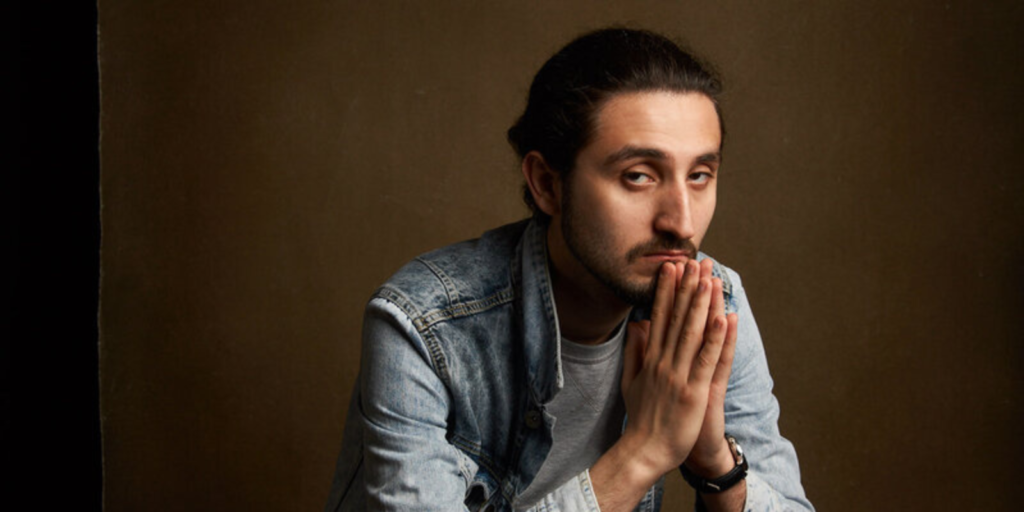 30/09 – Isfar Sarabski – Sala Vanni (Florence)
– Tickets on sale at Boxol.it BUY NOW – 
Born in 1989 in Baku, Azerbaijan, Isfar Sarabski graduated at Boston's Berklee College of Music before winning the Montreux Jazz Festival's Solo Piano Competition in 2009, the Honorary Artist of Azerbaijan and the Zirva State Prize the following year. Great-granddaughter of singer Huseyngulu Sarabski, a legendary figure in Azerbaijani music, Isfar signed his recording debut in 2021 with Planet, a mirror of an eclectic idea of jazz, where Afro-American-derived language is mixed with electronic explorations, symphonic echoes and a pianism that may recall Rachmaninov.
His music is an impressionistic jazz, rich in references to the folkloric tradition of his home country and at the same time open to the exploration of electronic soundscapes. Boundaries between genres do not exist for him: Isfar Sarabski's musical style can sometimes resemble that of Brad Mehldau, but he also explores the classic minimalist approach. Sarabski has a great sense of storytelling and a strong respect for Azerbaijani traditional music.
---
Yaron Herman's concert is made possible thanks to the support of the Opera di Santa Maria del Fiore. For the realization of I Poeti del Piano Solo festival thanks also to Anea Italia srl and Credem Euromobiliare Private Banking.
The activities of Musicus Concentus benefit from the contribution of Ministero della Cultura, Regione Toscana, Comune di Firenze, Città Metropolitana di Firenze and Fondazione CR Firenze.