Musicus Concentus presenta
Secret Florence
ERNST REIJSEGER
martedì 6 giugno 2023
Chiostro del Convento di Piazza del Carmine, ore 19:00
Violoncellista olandese, all'età di 20 anni Ernst Reijseger abbandona gli studi classici e si dedica alla musica improvvisata: cresciuto nella grande ICP Orchestra di Misha Mengelberg, ha suonato con una miriade di musicisti tra cui Gerry Hemingway, Louis Sclavis, Trilok Gurtu, Franco D'Andrea, Uri Caine, Yo Yo Ma, Giovanni Sollima e Nana Vasconcelos, attraversando più volte i confini tra musica classica, world e jazz. In particolare, ha imperversato negli anni Novanta con il trio Clusone (insieme a Michael Moore e Han Bennink), autore di leggendarie performance nei festival jazz in tutta Europa.
Di grande importanza e assoluto valore artistico, la sua ultra decennale collaborazione con il regista tedesco Werner Herzog, per il quale Reijseger ha composto le colonne sonore di film come "The White Diamond", The Wild Blue Yonder" e "Cave of Forgotten Dreams". Tra i due c'è un vero sodalizio artistico e una solida stima reciproca. Herzog ha recentemente commentato: "Ernst è un magnifico violoncellista e può fare qualsiasi cosa con il suo strumento".
Il suo rapporto aperto con tutta la musica gli permette di calarsi perfettamente nei contesti più diversi, pur mantenendo sempre riconoscibile la propria cifra stilistica. La sua capacità di interagire con varie forme d'arte lo rende partner creativo di poeti (Ramsey Nasr), coreografi (Bollwerk), attori (Oscar Isaac, Teo Joling), pittori (Jerry Zeniuk, Simon Kramer, Robert Zandvliet), scultori (Gertie Bierenbroodspot), fotografi (Joost Guntenaar, Krijn van Noordwijk) e registi (oltre a Werner Herzog, Alex e Andrew Smith).
Dedito a numerosi progetti, nel corso degli anni Ernst Rejiseger ha intrapreso un percorso solista attraverso il quale riesce ad esprimere appieno la sua grande maestria nell'uso non convenzionale dello strumento, aggiungendo humour e teatralità alla sua musica: le sue esibizioni sono divertenti, appassionanti e sfidano ogni aspettativa.
Musicus Concentus propone il suo evento nel Chiostro del Convento di Piazza del Carmine, cortile che si conserva come uno degli angoli meno conosciuti dell'Oltrarno, luogo generalmente "di passaggio" che collega Piazza del Carmine alla Cappella Brancacci, ma che – forse proprio per questa ragione – conserva un fascino autentico e non artificioso.
In occasione di Secret Florence, e quindi una sola volta l'anno, il Chiostro viene riscoperto da residenti, cittadini e turisti, che lo possono apprezzare da un altro punto di vista: non più come "corridoio" ma come luogo deputato alla musica e allo spettacolo. Perfetto esempio di spazio inesplorato, che per un giorno lascia la sua funzione primaria per ospitare performance di musica contemporanea.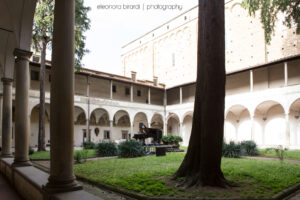 Secret Florence è un progetto speciale dell'Estate Fiorentina, realizzato assieme a Tempo Reale, Lo Schermo dell'Arte, Fabbrica Europa e Centro Nazionale Produzione Danza Virgilio Sieni.
Si ringraziano i Musei Civici Fiorentini e la Comunità dei Padri Carmelitani del Convento del Carmine per la disponibilità.
—
 Secret Florence
📍Biglietti ridotti in prevendita: 5€ +dp ACQUISTA ORA
Biglietti in cassa (se disponibili): intero 10€