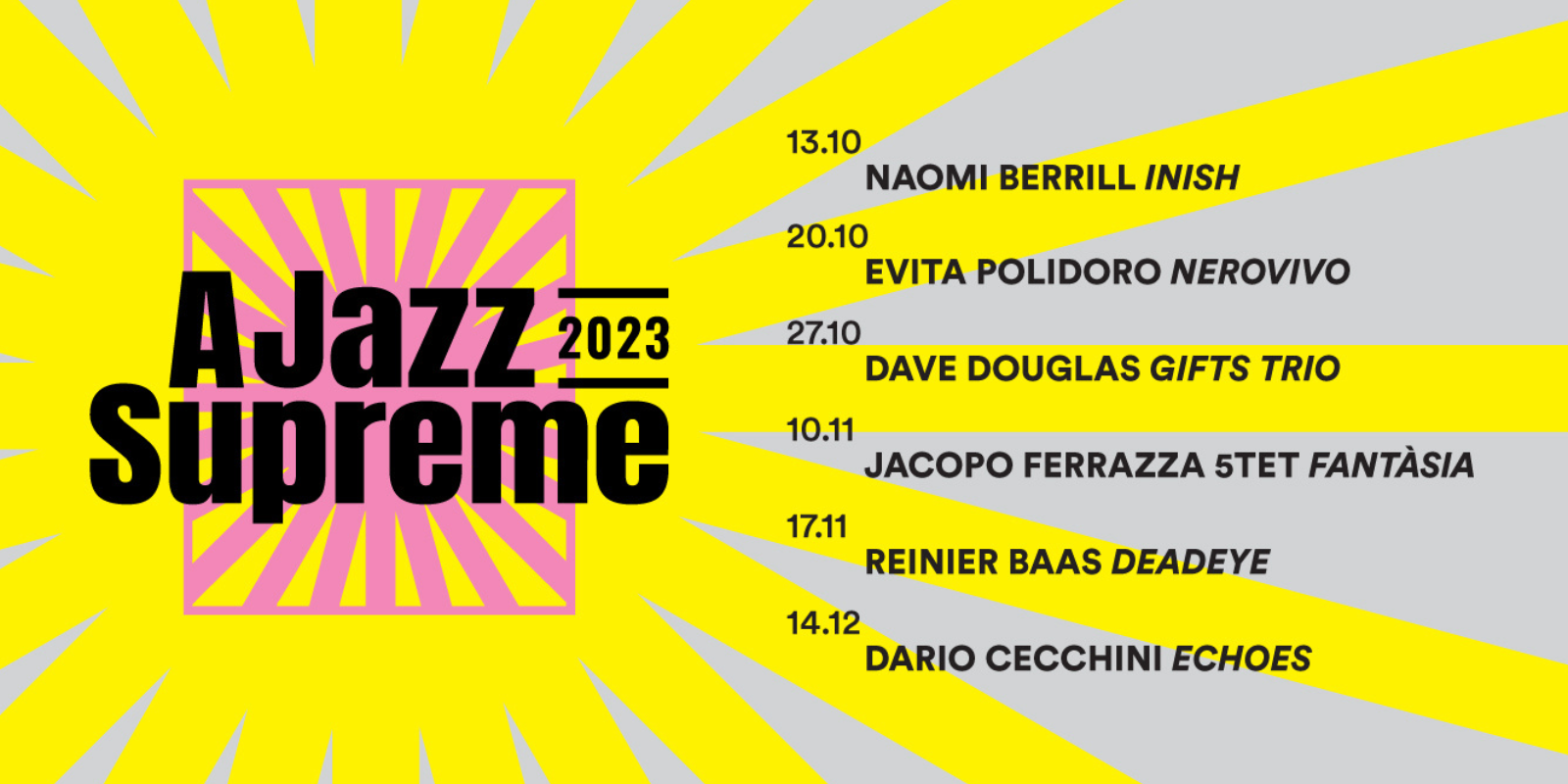 A Jazz Supreme: program of the 7th edition
Young, explosive, shameless, eclectic. The best contemporary jazz artists arrive in Florence this October for the 7th edition of A Jazz Supreme, presenting six of the most interesting projects of the italian and international scene.
The opening is all-female. It begins with the premiere of Inish, the new album by cellist Naomi Berrill, performed in an all-new trio dimension. Nerovivo was born of the creativity of Evita Polidoro, one of Italy's most highly regarded drummers.
With his Gifts Trio, legendary U.S. trumpeter Dave Douglas will bring a generational exchange to the stage. Modern jazz, chamber music and electronic music come together in Fantàsia, a project by Roman double bassist Jacopo Ferrazza, performed as a quintet.
Three of Europe's most forward-thinking jazz musicians join forces to create Deadeye, a supergroup led by guitarist Reinier Baas. The festival is closed by Echoes, sax solo by Dario Cecchini that explores the acoustic potential of the Museo dell'Opera del Duomo in Florence.
Each concert in Sala Vanni is introduced by performances featuring young jazz musicians, shining beacons on the future of the Italian scene: Lorenzo Simoni; Irene Lovato & Edoardo Cian; Edoardo Ferri; Guglielmo Santimone; Marta Frigo.
Tickets for the 7th edition of A Jazz Supreme are now on sale at Boxol.com.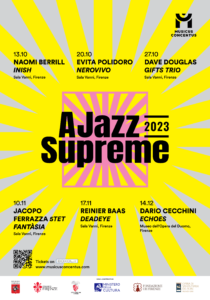 A JAZZ SUPREME – 7th EDITION
Artistic direction: Simone Graziano & Fernando Fanutti
Graphic design by Maria Gnozzi
🔸 13/10 – Sala Vanni > NAOMI BERRILL INISH
🔸 20/10 – Sala Vanni > EVITA POLIDORO NEROVIVO
🔸 27/10 – Sala Vanni > DAVE DOUGLAS GIFTS TRIO
🔸 10/11 – Sala Vanni > JACOPO FERRAZZA 5TET FANTÀSIA
🔸 17/11 – Sala Vanni > REINIER BAAS DEADEYE
🔸 14/12 – Museo dell'Opera del Duomo > DARIO CECCHINI ECHOES
Dario Cecchini's concert is made possible thanks to the support of the Opera di Santa Maria del Fiore. The activities of Musicus Concentus benefit from the contribution of Ministero della Cultura, Regione Toscana, Comune di Firenze, Città Metropolitana di Firenze and Fondazione CR Firenze.