Musicus Concentus and Opera di Santa Maria del Fiore present
BACK TO BACH – SPECIAL EDITION
featuring Paolo Fresu, Daniele Di Bonaventura, Uri Caine and I Virtuosi Italiani
Thursday, October 26, 2023
Santa Maria del Fiore Cathedral, h. 21:15
Reservations open Thursday, Oct. 19 at 9.00
👉   CLICK HERE: https://duomo.firenze.it/it/eventi/9726/back-to-bach-special-edition
After "Altissima Luce – Laudario di Cortona" the Opera di Santa Maria del Fiore and Musicus Concentus give the city of Florence another extraordinary event in the Duomo: "Back to Bach – Special Edition" featuring Paolo Fresu, Daniele Di Bonaventura, Uri Caine and I Virtuosi Italiani. This is an all-new project, which originates from the one called "Back to Bach" from 2012, performed in the Church of San Fermo in Verona for the "Musica e Arte Sacra Festival".
The music traces a dreamlike journey from Bach to the contemporary, in which a mutual relationship of senses reveals the interpenetration of Baroque music and jazz improvisation. Rhythm and harmony give voice to the soul and flow its declinations, in a dance that caresses the stylistic diversities and grasps their affinities. An extraordinary reinterpretation of the cultured repertoire through unusual sonic guises.
It will be a concert of strong emotional and scenic impact, with the ensemble and soloists entering the stage from different directions of the Cathedral, cleaving the silence with suadent and profound notes. The presence of Paolo Fresu, Daniele Di Bonaventura and Uri Caine, together for the first time on the same stage, will determine the choice of a new repertoire and imprint the event with the chrism of exclusivity.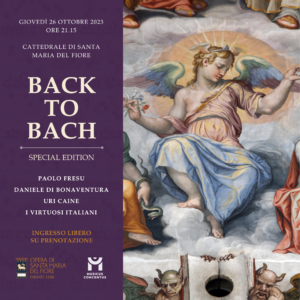 –
🎟️ Free entry with mandatory reservations
ℹ️ For more informations: opera@duomo.firenze.it